Valentine's Day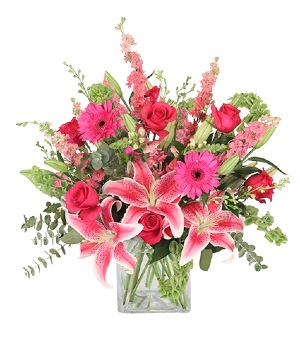 Pink Explosion
Vase Arrangement
No need to take cover...This explosion is a good thing! Bursting with vibrant pink roses, gerbera daisies, and stargazer lilies, Pink Explosion is decadently scented and full of life. Show admiration to all the pink-loving ladies in your life!
Nothing says "I Love You" more clearly than sending flowers on Valentines Day. Whether it's a first date, first anniversary or the fiftieth, The Flower Patch...& More can help you find the perfect gift for your sweetheart on this Day of Love. Don't forget to show your friends and family some love too with a special delivery from The Flower Patch...& More. Browse our Valentines Day flowers online or call us for custom creation. No matter where you need to send flowers, The Flower Patch...& More in Bolivar can help!
It is our goal to make your arrangement to look as similar to the chosen arrangement, but during the holiday, we do reserve the right to make necessary substitutions due to poor quality of product from growers and shortages due to extremely high volumes of orders.